I am excited to tell you about the best Holy Heroes has to offer in way of First Communion gifts for boys and girls. (**SURPRISE** My prices down below are often HIGHER than reality:  I discovered that lots of these things are on sale right now–because I know Holy Heroes just found some new offices & they don't want to have to lug as much stuff across town–get 'em while they are on sale! I noted some sale prices I found…but don't trust that I found them all!)
I have a seven year old, Lydia, who will be making her First Holy Communion in just a few weeks and she has been busy reviewing all the Holy Heroes stuff that she wants (for herself and her friends!). My six-year-old son, Xander, who is also preparing for his First Communion (which will take place next year) has also been busy at work, taking advantage of his favorite Holy Heroes booty. So when it comes to finding an appropriate First Communion gift that kids will love, you don't have to take a boring grown up's word for it – you have the good authority of a 7 year-old girl and 6 year-old boy! 
One of the awesome perks of writing for the Holy Heroes Blog is that every time I stop by the office to say hello I get to see all the new and exciting projects they are working on, and as they show me they say "Oh here, give Xander this!" Or "Lydia would love this!" and I get to bring home little goodies for everyone. Like I said, it's an awesome perk. Besides inside looks at the projects and new coloring sheets for the kids, Holy Heroes has blessed my family in one amazing way that I never ever saw coming: my children's faith has flowered. As I have brought home Glory Story after Glory Story, faith filled books, coloring books, and of course the matching game, their conversations and actions at home have shifted. As the kids freely and willing spend more of their time thinking about, learning about, and "playing with" the saints, their conversations with each other and with me have taken on new dimensions. My kids are very interested in the invisible realities of the world.  
Just like my kids are obsessed with ninjas, and Legos, and princesses, they are also obsessed with the martyrs, Guardian Angels,  Mother Mary, Bible stories, and the saints. This is truly an amazing thing . . . however when you are pulling five kids through Costco with two huge carts full of food, and the kids start talking to their Guardian Angels out loud, making you look more like an insane family than you already look . . . sometimes you wish kids did not get so excited about the things that they love. 
All kids are incredibly intense about the things they love and this intensity about their faith couldn't come at a better time with my eldest making her first communion in a few weeks. Kids may outgrow ninja's and princesses (never Legos) but they don't outgrow the lessons in bravery or kindness they learn from them. This intensity about the saints and their faith, and the lessons they are learning from them, goes much deeper than their intensity about the other things they love. I see my kids connect the dots between subjects and ideas. When we have discussions around the dinner table, or when they are talking with each other around the monster truck dirt pile outside, ideas and lessons they have learned from the saints sneak into their everyday lives and conversations. It's truly a wonderful thing and I will always be grateful to Holy Heroes for that gift!
Okay, so you are probably thinking… "You promised me a First Communion gift list. Get on with it!!!" I know, I know. I 'm sorry. I just want you to understand what a profound impact these products have had on my kids and on my family, the conversations they have opened up, and the thoughts they have inspired. 
The Best First Communion Gifts for Boys and Girls
Glory Stories $14.95 each (or save $20 by getting the complete set of 14 CDS)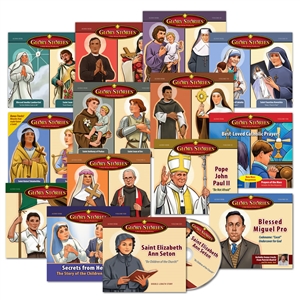 I think this might be my number one. My kids ask to listen to these All. The. Time. I love audio books and stories because, rather than passively engaging them like the TV does, they force the kids to imagine, pay attention, and be quiet. This is SUCH a blessing in the car!!!! I'm sure I don't have to tell you what five children locked in a vehicle sounds like . . . Loud. They sound loud. Unless I pop in a Glory Story. Then they sound silent and engaged. Lydia loves bringing her Glory Stories CDs to faith formation class so that they can all listen as they work. My kids just love the exciting stories and they listen to them over and over and over and I don't even mind listening to the 20th time, in fact I find myself listening as well. My kids have all decided be become saints and hilariously remind each other to "stay on the path to Heaven". 
Picture Bible $20.00 (sale: $17.95)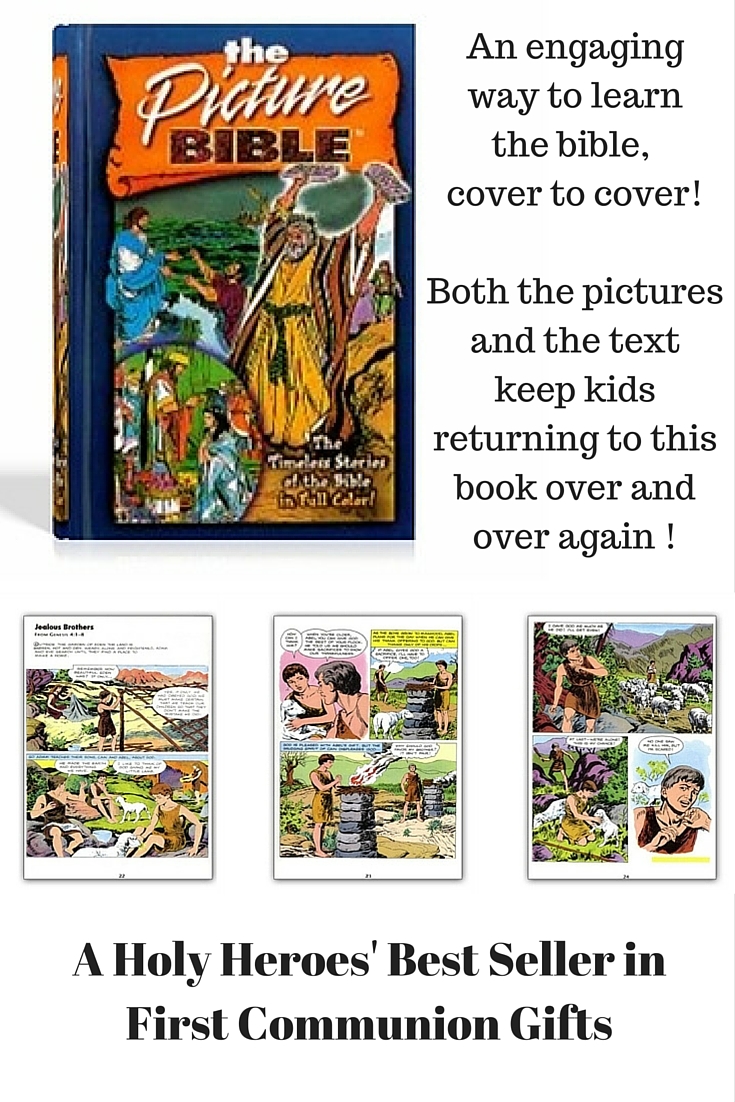 This book is nothing short of amazing. Lydia is reading it cover to cover. It is a huge book of carton strip Bible stories, Old Testament through the New Testament. She finds the stories fascinating and exciting. I cannot believe the knowledge she has of the Old Testament and I find myself digging back into my old Theology classes to remember the things she asks about and talks about. We have the most fascinating conversations because of this book. She can not put it down, literally. She is about two-thirds of the way through the Bible, and I have to set a timer when she reads it in the morning and then she has to move onto other things (or she would never get work done!). Before Lydia was obsessed with it  my 4 year-old boy was. He would pour over the pictures during nap every day. It is a family favorite and a perfect First Communion gift for boys and girls. You won't find anything else like it. 
Spiritual Diary Set $33.90 (sale $30.90)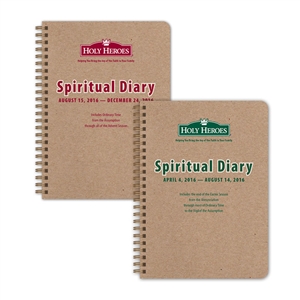 This is a great First Communion gift for boys or girls. It is a thought provoking journal which guides them through prayers, questions, and ideas…and little drawings that also start conversations! I already wrote an entire post about it right HERE so you can check out the link if you want more information about it.
(You can also get just the diary that starts April 4th and goes through August 14, but the set that takes you right up to Christmas Eve is the best deal.)
Father Leopold Celebrates Mass Lego Set (save $4 sale $68.89 with Missalette and Prayers CD so the little non-readers can celebrate!)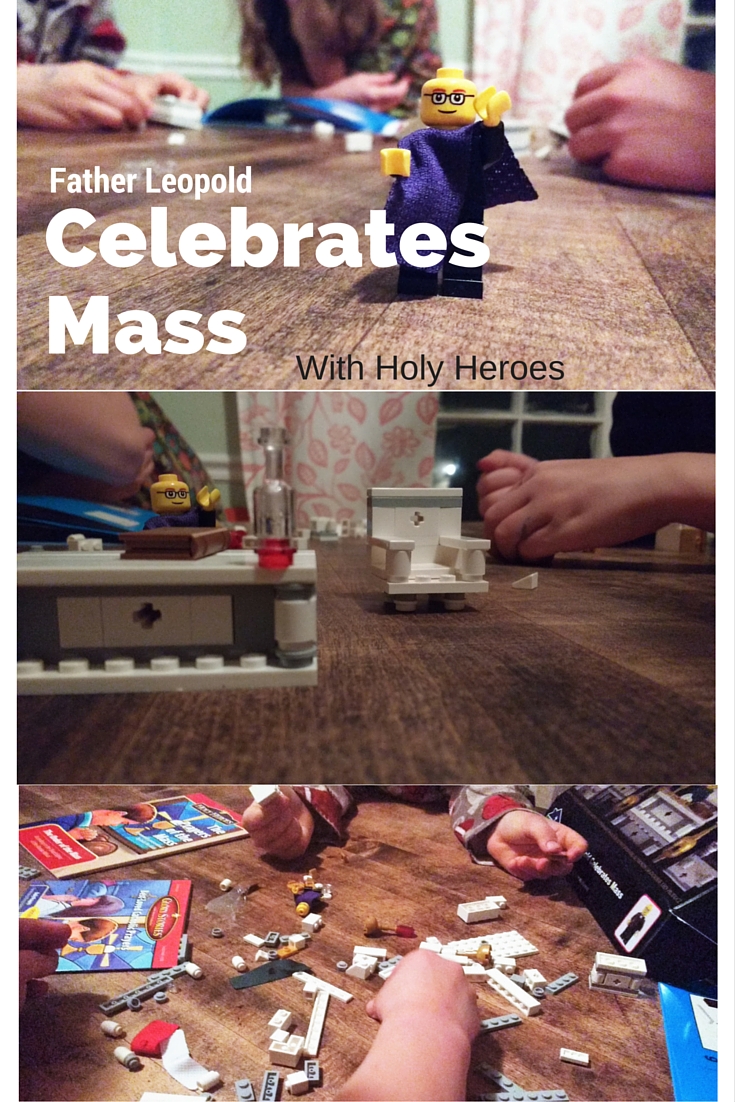 This Lego Set is genius and maybe the best First Communion gift for boys you could give (my girls love it too, of course). With all the white, and the flowers, and pretty rosary bracelets, boys might feel a little "out of their element" when it comes to first communion parties, but this set has it all. It is made up of real Lego pieces and and specially manufactured pieces that work with the Lego. My kids have fun dressing up "the world's smallest priest" in his different colored vestments and building the altar and tabernacle. Their conversation while building it together was priceless, and I look forward to eavesdropping on many more arguments while they play with it about what the different colored vestments mean and about why going to Mass is important.  
Inside the Sacraments DVD, $24.95 (Deal of the Day sale at $19.95, too!)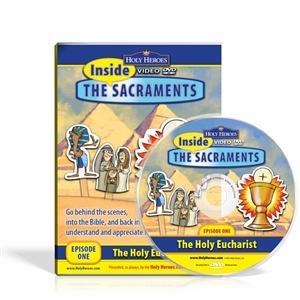 My kids LOVE this DVD and think it is just hilarious. I personally cannot believe the Eucharistic theology they pack into this little DVD. Starting with the Old Testament, the Holy Heroes Guides manage to unlock some of the deepest truths and mysteries of our faith in a way that kids can understand. They don't water anything down, quite the opposite in fact. And did I mention that my kids love it? Because they do. 
The Holy Rosary Audio CD Set super-sale at $20 off $39.80 (or $14.95 each)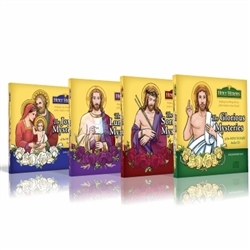 I really can't say anything about these CD's other than I love them. Children lead the rosary in sweet, clear voices. With scripture between each Hail Mary it is as calming as it is informative and prayerful. My kids enjoy falling asleep to it at night and I enjoy listening as well.  You will be surprised the things you hear in Scripture this way, Hail-Mary by Hail-Mary, that you won't hear when you read through quickly!
First Communion Gifts Under $10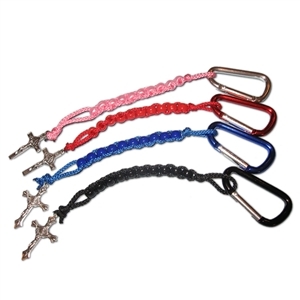 These are awesome. Little boys love to wear the cool black carabiner hanging off their pants. It helps them to be kind and to "offer up" little things, like the truck they wanted to play with and had to share. It is a sweet way for them to learn kindness toward others and "offering" their actions as prayer. My girls love theirs as well, but when it comes to First Communion gifts for boys it can be more difficult to find something small and meaningful.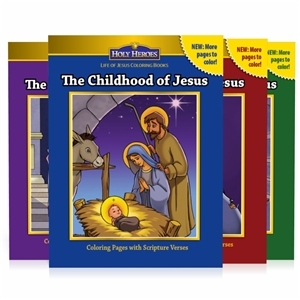 Coloring Books $4.95 If your first communicant loves to color then Holy Heroes has you covered. You can check out all their awesome, Scripture filled, coloring books right here.   (The whole set is on sale–better to buy the whole "Life of Jesus" set than an individual book, frankly.)
Holy Heroes Matching Game $8.00 (sale $5.99)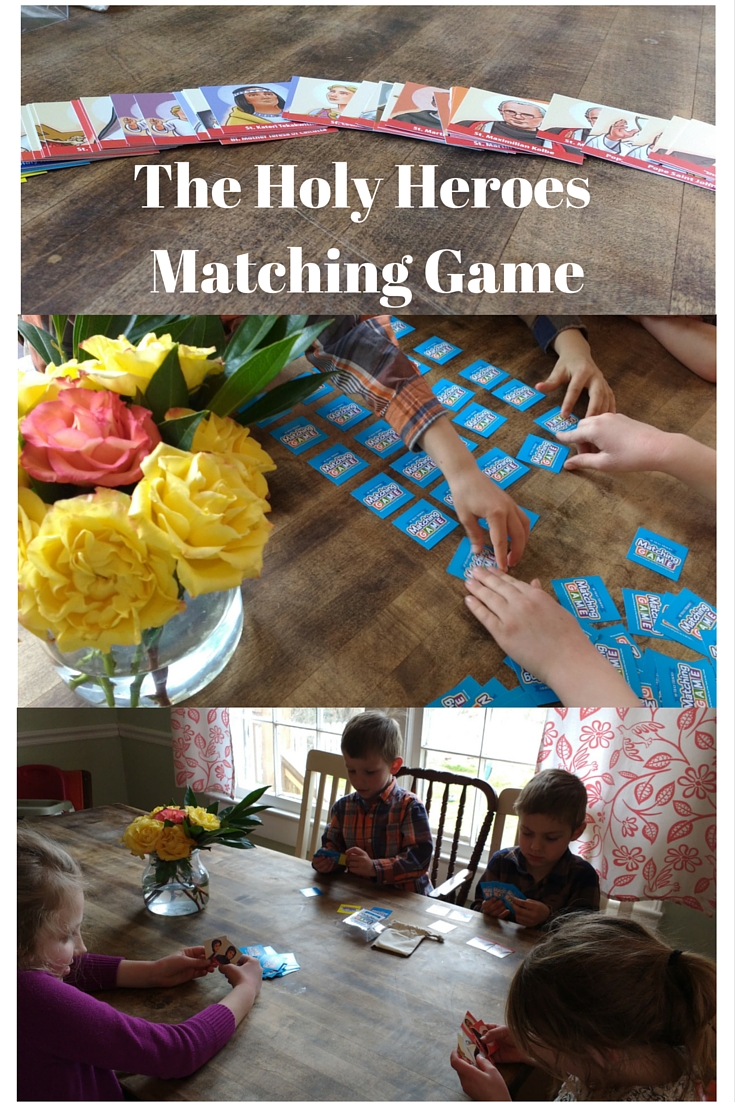 My kids love to play with this matching game either alone or as a group. **SURPRISE** Holy Heroes also just released a deck of "Works of Mercy" cards for playing "Go Fish" and other games to teach your children all the Corporal and Spiritual Works of Mercy with the same sweet artwork found in their coloring books — it's here, but I haven't seen it yet.
Clare's Costly Cookie $9.95 (sale-priced at $8.95)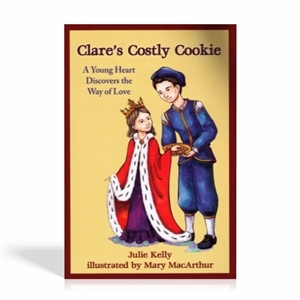 This book is like a journal of a little girl's prayers. She talks to God about her problems, like her brother taking the particular cookie that she wanted. Lydia has really enjoyed reading it because she can relate to all of this little girl's "problems." It is right on reading grade level for a first communicant and the lessons are sweet, and like I said, relatable. Lydia loved it. 
Best Loved Catholic Prayers and Prayers of the Mass Booklet $8.00 (sale $7.45)
This is a great little booklet for your first communicant to take to Mass to help them stay focused.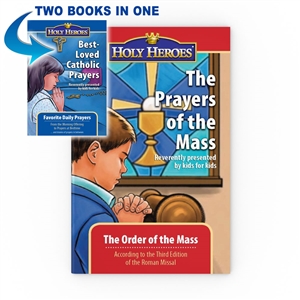 I hope you have gotten some inspiration from my list. I am so excited to be preparing with my daughter, Lydia, for her First Holy Communion. If you will, keep her in your prayers as she prepares to receive our Lord, Body, Blood, Soul, and Divinity, for the first time in just a few short weeks.
In the Love of Christ, 
Jenny Ryan 
PS Don't forget to share this post on Facebook to help out other parents, grandparents, Godparents, aunts and uncles–everyone who is also looking for the perfect First Communion gift!
The following two tabs change content below.

Jenny Ryan can be found regularly over at
theryantable.com/
 She is the mother of five, holds a Bachelors Degree in Theology, and wrote the Catholic children's book, "Love With All My Might."