When I was 7 & 8 years old, I loved to write in my journal, which was just a spiral notebook with the words "Top Secrt!! Doo Not Look!! For Jennys Ies Onlee!" scribbled all over it.
I found the only remaining journal from those years some 10 or 12 years later. As an older teenager, I enjoyed reading, "Deer God, pleese help me to forgiv a gurl for locking me in the bathrom." I laughed as I read and remembered that awful day when a mean girl locked me in the bathroom during a home school field trip.  All the kids were laughing, and I was mortified. I remembered how angry I was, and I was worried that I would never ever ever be able to forgive her.
Until I found that old notebook, I had forgotten the story.  It reminded me of how real my emotions were, and how I had learned to go to God with them. Now that memory is forever with me (in a good way!).  It helps me to remember that our kids' problems and emotions are as real to them (and at least as strong) as ours are to us.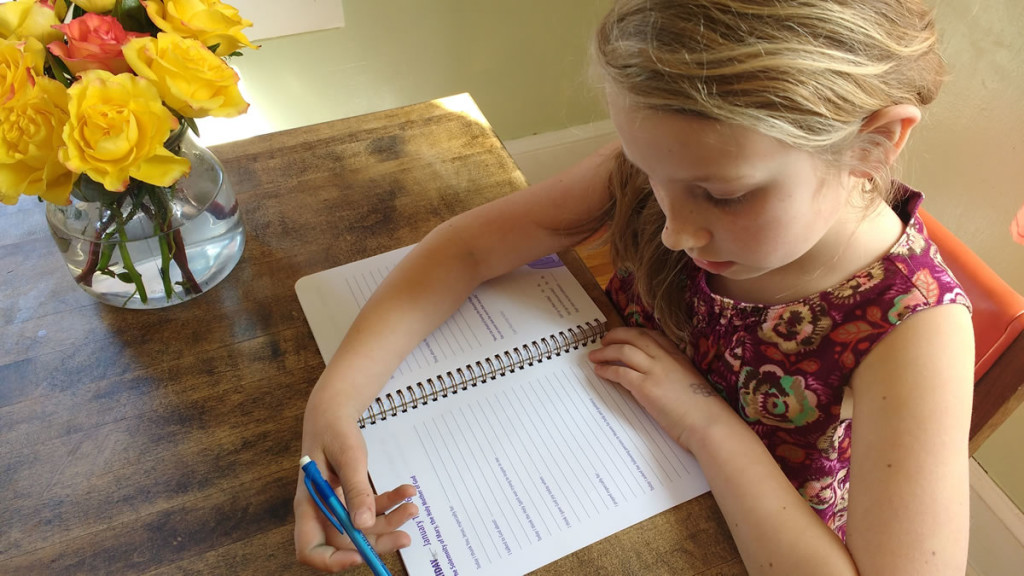 Journaling is a beautiful way to touch base with God. It can be a way to relax, to sort though problems or emotions, and a way to remember days or events that you never want to forget. Journals are an important tool for teaching children, and ourselves, to pray to God and to talk with Him as we would our best friend.  Journaling builds a fantastic habit that can carry us through our hardest times; I know that during my teenage years my habit of journaling made a huge and positive impact in my life. 
In many cases journals have opened doors for children to talk to their parents about things that may be bothering them, and this can be life-changing.
I know a mom who keeps a journal for each of her children during their senior year in high school. When she wants to lecture, she journals; when she is proud of them, she journals; when she wants them to remember an important lesson, she journals. And then, when she drops them off at college, she leaves the journal for them without them knowing it, so they find it later. It has been a beautiful way for this mom to help her and her children transition during what is often a difficult time for families.  
Okay, so I guess by know you know that I am a huge fan of journaling.
That is why I am excited about the brand new edition of the Holy Heroes Spiritual Diary. Thousands of copies were sold of the first edition. But before a bunch of new and dated journals were printed, the Holy Heroes Family wanted to know what people liked about the journal and what could be improved. They reached out to customers to find out what they thought of that first journal which was full of feast days, inspirational quotes, and thought-provoking questions. 
The response from customers was overwhelming. I hardly know how to choose whom to quote, but I will start with this one because I think it is my favorite: 
Thank you so much for making these diaries.  I got them for some of my kids and myself.  It has been so helpful for one of my sons, who tends to keep things to himself.  I have assigned the diaries as part of their homework, and then we look at it together and talk about it.  It has enabled me to really find out what the kids are thinking, and if something is worrying them we can talk about it.  It is amazing what the kids will pray for.  Maybe they prayed for these things on their own before and I didn't know about it, or maybe the diary is inspiring them to pray for things.  I love seeing the special holy days on the daily pages and the quotes.  Also I love the (tear-out) confession pages in the back.  Please keep making these diaries, they are so helpful for anyone's spiritual journey. 
Here's another one.  And I particularly love what this mom says about her little girl trying to do at least one act of love a day: "My 11 year old says that it helps her try to do at least one act of love every day because of the "I think I gave God joy today when…." question.  They write in their journals each evening before bed."
OK. I have to share one more with you, because it is very beautiful: 
My daughter, age 10, loves the spiritual diary!  She writes in it every morning,  as part of her morning prayer routine.  She tells me she loves it as it is and no changes are needed! I want to thank you!  Those are very powerful words from my reluctant writer. Your diary has given her a wonderful outlet for her thoughts.  I love the guided nature of it. An empty notebook to fill with one's thoughts is overwhelming.  I'm very happy that the series will continue.  My 8 year-old son has asked for a copy too, now that his sister had spoken so highly of it.
We have heard from moms who use it for themselves, from moms who have seen their kids open up because of it, and from moms that had some great suggestions on how Holy Heroes could make the next series even better. 
Here are a few of the new improvements to the daily journal.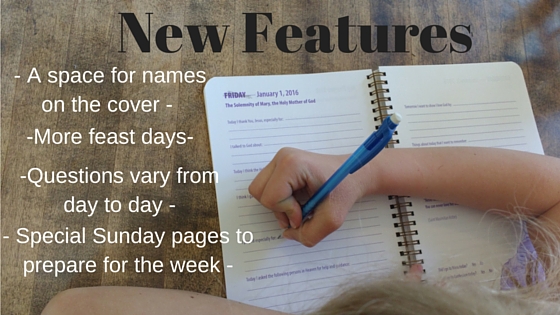 I'm supposed to tell you that you can get a great pre-order deal but I don't think that is necessary because I think a resource like this is great whether it is on sale or not (but lucky for you, as of the the time I am hitting publish, it is on sale). 
I know this post is a lot more "salesy" than what I typically write, but there is no way around that. This is a great product that can lead people closer to God, teach them to pray, and instruct them in the sacraments. These journals will be fantastic keepsakes and treasured for years. I wish that I had more of my childhood journals so that I could look back into that little 8 year-old heart of mine. I volunteered to write this "salesy" post because I think journaling is important and I want you to know about (and tell other people about) this great tool for your family. 
I hope that you grab some for your family, your God-children, and whoever else could use one. 
Until next time, 
Jenny Ryan 
PS If you want to see some sample pages (the 2-page spread for every day has questions to spur children–and adults!–to think about their day from the perspective of growing in their relationship with God), here's a cute (and short!) video describing the first diary here that shows many of the pages inside.
The following two tabs change content below.

Jenny Ryan can be found regularly over at
theryantable.com/
 She is the mother of five, holds a Bachelors Degree in Theology, and wrote the Catholic children's book, "Love With All My Might."