If you are just joining us in this novena to the Holy Spirit, then jump right in! You can start with today's prayers or you can catch up on the previous prayers. (Intro, Day 1, Day 2, Day 3, Day 4)
God gave the first penances for sin to Adam and Eve (Genesis 3:16-19).  (Note: you very likely will hear the words at the end of verse 19 on Ash Wednesday!)
As you pray for the Gift of Knowledge from the Holy Spirit, meditate upon those first penances, seeing that those penances that were selected for Adam and Eve specifically recognized the relationship between them that God had also given to them as a gift.  The penances the Holy Spirit will inspire in you for this Lent will also recognize those God-given relationships which you considered on Day 3: you are not called to a penance that ignores your responsibilities in your state in life.
If you subscribe to our blog by entering your email address below, you will receive reminder emails with links to the daily prayers.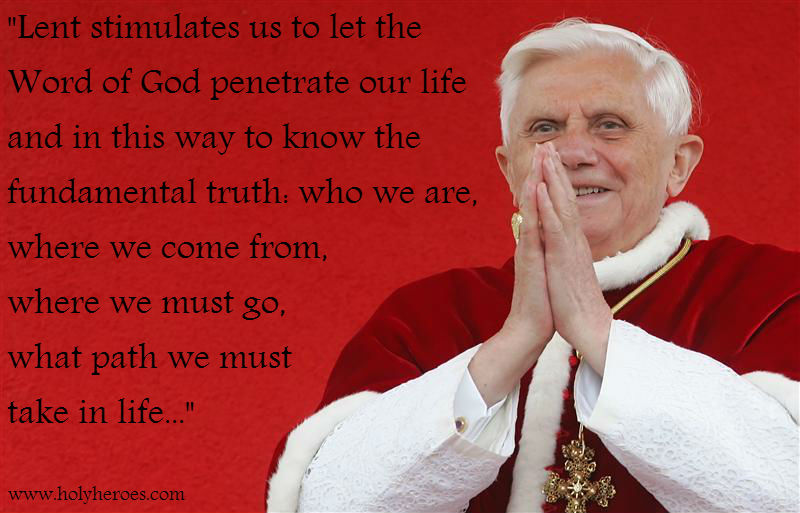 FIFTH DAY
Light immortal! Light Divine! Visit Thou these hearts of Thine, And our inmost being fill!
The Gift of Knowledge
The gift of Knowledge enables the soul to evaluate created things at their true worth–in their relation to God. Knowledge unmasks the pretense of creatures, reveals their emptiness, and points out their only true purpose as instruments in the service of God. It shows us the loving care of God even in adversity, and directs us to glorify Him in every circumstance of life. Guided by its light, we put first things first, and prize the friendship of God beyond all else. "Knowledge is a fountain of life to him that possesseth it."
Prayer
Come, O Blessed Spirit of Knowledge, and grant that I may perceive the will of the Father; show me the nothingness of earthly things, that I may realize their vanity and use them only for Thy glory and my own salvation, looking ever beyond them to Thee, and Thy eternal rewards. Amen.
Our Father and Hail Mary ONCE. Glory be to the Father SEVEN TIMES. 
And these final two prayers:
ACT OF CONSECRATION TO THE HOLY SPIRIT
On my knees before the great multitude of heavenly witnesses I offer myself, soul and body to You, Eternal Spirit of God. I adore the brightness of Your purity, the unerring keenness of Your justice, and the might of Your love. You are the Strength and Light of my soul. In You I live and move and am. I desire never to grieve You by unfaithfulness to grace, and I pray with all my heart to be kept from the smallest sin against You. Mercifully guard my every thought and grant that I may always watch for Your light, and listen to Your voice, and follow Your gracious inspirations. I cling to You and give myself to You and ask You, by Your compassion to watch over me in my weakness. Holding the pierced Feet of Jesus and looking at His Five Wounds, and trusting in His Precious Blood and adoring His opened Side and stricken Heart, I implore You, Adorable Spirit, Helper of my infirmity, to keep me in Your grace that I may never sin against You. Give me grace O Holy Spirit, Spirit of the Father and the Son to say to You always and everywhere, "Speak Lord for Your servant heareth." Amen.

PRAYER FOR THE SEVEN GIFTS OF THE HOLY SPIRIT
O Lord Jesus Christ Who, before ascending into heaven did promise to send the Holy Spirit to finish Your work in the souls of Your Apostles and Disciples, deign to grant the same Holy Spirit to me that He may perfect in my soul, the work of Your grace and Your love. Grant me the Spirit of Wisdom that I may despise the perishable things of this world and aspire only after the things that are eternal, the Spirit of Understanding to enlighten my mind with the light of Your divine truth, the Spirit of Counsel that I may ever choose the surest way of pleasing God and gaining heaven, the Spirit of Fortitude that I may bear my cross with You  and that I may overcome with courage all the obstacles that oppose my salvation, the Spirit of Knowledge that I may know God and know myself and grow perfect in the science of the Saints, the Spirit of Piety that I may find the service of God sweet and amiable, and the Spirit of Fear that I may be filled with a loving reverence towards God and may dread in any way to displease Him. Mark me, dear Lord, with the sign of Your true disciples, and animate me in all things with Your Spirit. Amen.

 Then, take a few moments of silence, to listen in your heart to what the Spirit is asking of you this Lent, resolving to be attentive throughout the day to whatever holy inspirations may be given you.
Don't forget — Here are some Lenten Resources for your family:
Lenten Road to Easter, Family 5 Pack

This CD is beautifully led by children and has very specific and beautiful resolutions at the end of each station:
Sign up for Lenten Adventure (free) and let the Adventure Guides help your family have the best Lent ever!

The following two tabs change content below.

Handles much of our social media, as well as helping the younger kids with their writing and video and audio recording. Clara's voice is heard in several Glory Stories, and the saint whose story she has been begging to have made into a Glory Story is finally about to begin recording--stay tuned!