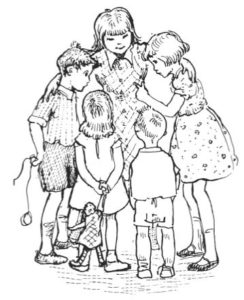 When it's time for bedtime stories, Dad's usually tired, so sometimes he's the one who will fall asleep while he's reading (well, he dozes off when he is interrupted by DISCUSSIONS and COMMENTS on what he just read–and we have a lot of, er, spontaneous discussions in our family!).
But: even though most of us are too old to listen to bedtime stories, we always come to hear him read from the Mitchells three book set (and he NEVER falls asleep, either).  This great set by Hilda van Stockum presents a rollicking story of a large Catholic family during the 1940s. From big sister Joan to baby Timmy, the five Mitchell children struggle to adjust to life without Daddy after he leaves to fight during World War II in the first book of the set, Five for Victory.  Then Joan has the splendid idea to start a club to help win the war!  Every child will love hearing about all the things involved with the club and their projects and plans.
The second book, Canadian Summer, begins with the shocking news that the entire Mitchell family is moving: to Montreal! The children have countless adventures exploring the Canadian countryside, alongside their new friends, the Jolicoeurs.  We really liked hearing how their Catholic Faith is so much of their daily life, very naturally, very joyfully.
Two years after that wild summer we again are with the family in Friendly Gables, a great house in the middle of Montreal. The family has grown considerably from the five children at the beginning of their tale, and with a family of their size, anything can happen and does! This is very typical big-family stuff, from school disasters to hidden forts to irate nurses (!) and, best of all, new babies!
The Mitchells series has been read aloud many times in our home by Dad (and most of the time Mom makes him read it where she can hear it, too, although sometimes we've caught her just reading ahead on her own–cheating!). It's a favorite with all of us, and the Mitchells are old friends. Oh: I almost forgot one thing that also makes these great read-alouds–the author made sketches and pictures throughout the book of each of the children!  Dad has to say, "PICTURE!" so we can all gather around whenever he turns to a page with her really great sketches.  
Because we know what each child looks like, we each have our own special favorite. I just asked them and here's what they said:
Caroline loves little Catherine, remembered for her funny sayings and baby accidents.
Lillian prefers dreamy, book-loving Patsy.
Therese and I both like responsible Joan, the oldest Mitchell child.
Trey wasn't around, so I couldn't ask him (but I think he likes easygoing Peter, the eldest boy).
The older girls aren't around right now–so we've decided to have Dad read them again over Christmas vacation, and I'll ask them then!
Your family will also like excitable Timmy, and the twin boys, Jimmy and Johnny.  The Mitchell family's incidents and adventures are entertaining and showcase real-life lessons experienced by any modern-day family (Patsy losing her glasses…Peter getting into his first fight…and Joan attending her first dance, and so on). Through everything though the Mitchells stay true to themselves and each other, making the Mitchells series a joy to read!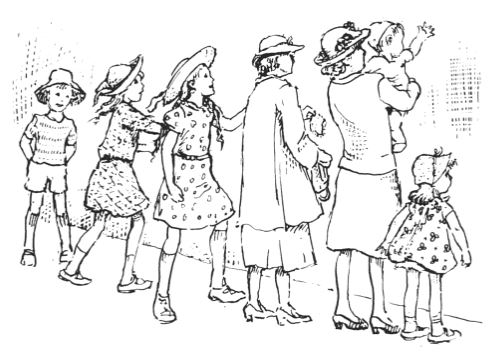 The following two tabs change content below.

The mainstay for many of our Adventure videos. Anna has appeared in Glory Stories volume 13, "Codename: Cocol -- Undercover for God."