Do you (like me)
struggle to keep your Lenten sacrifices
year after year?
Do you enter Easter Mass
feeling a bit guilty
that you've time after time neglected (or cheated)
on your Lenten devotions?
Do you just want help
to make this your (and your family's)
holiest Lent yet?
We love motherhood. And we knew it would be hard, we knew there would be sacrifice, and we wouldn't trade it for the world. However, sometimes our responsibilities and failures overwhelm us, or we are so tired we just want to cry, or we lose our tempers right after resolving to never lose them again. When this happens to me I just want some comfort.  At the end of a long day I usually end up looking to the mindlessness of TV, or the distraction of Facebook, or the endorphins of chocolate. I look for comfort…and then I make promises to try harder tomorrow.
Then Lent rolls around.
"This is our chance!" we think. "Now we call pull it together and be a better homemaker, a better mother, a better wife, a better friend…" We might start making lists of things we want to accomplish in Lent: things we can declutter, weight we can lose, self-control we can gain, and the list would be endless if we just had more time to write down every way we could better ourselves.
We are already the last ones to eat, the first ones to give up sleep, and we can't even drink a cup of coffee or tea without having to microwave it so many times that it becomes radioactive! Goodness knows we don't get a lunch break like the rest of the working world. For these reasons when it comes to voluntary penance it is often the last thing we want to do–or even feel the need to do!
Instead, we look at ways for self-improvement:
"How can I make myself better?
What can I do this Lent to be more of what I want to be and should be?"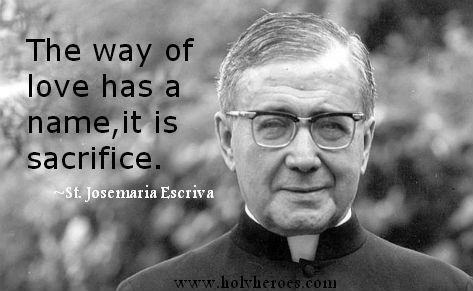 As good as it is to try and improve ourselves and to reflect on areas of our lives that need change we need to remember:
Lent is not about self-help or self-improvement.
It is not about "de-cluttering" our home.
It is about preparing our hearts and souls
to renew our baptismal promises
on Easter morning.
It is about rejecting sin and Satan. It is about confessing our belief in God–belief strong enough to let go of whatever we cling to so that we may cling to God instead…so He can accomplish His mission through our cooperation.

We reject Satan's empty promises of comfort.
 Take a look at the Gospels to see how we need to prepare:
They say that THE SPIRIT led Our Lord into the desert.  
The Holy Spirit shows us through Him
 how to do penance and to renounce Satan
in our daily temptations.  
The Spirit will point us in the right direction.
We need to ask the Holy Spirit to lead us into the desert, as He led Jesus Whom we are striving every day to imitate.
We need to
pray for the desert that God desires for us
to enter this Lent. 
We want to make it simple to do this:
Will you join me in the nine days to Ash Wednesday in a novena to the Holy Spirit?  We'll ask Him for guidance, ask Him to shed light on the areas of our lives that we need to surrender and open to His transforming love.  We'll let the Holy Spirit reveal the penances, the prayers, the alms-giving–EVERYTHING He wants us to do this Lent!
We will begin on Tuesday, Feb 2nd, and conclude on Ash Wednesday, Feb 10th.  Just subscribe to our blog, and we'll remind you by sending you every day the prayers–easy as can be.  If you want to look ahead and print things off in advance, you can find the complete novena prayers right HERE.
Some thoughts as you pray this novena:
Where do we seek the comfort of the world rather the comfort of our Maker?

When do we love ourselves rather than die to ourselves?

What are we attached to that prevents us from seeking the Grace of God?
Let us give up those things we cling to, so that this Easter we can renounce Satan and all his works and all his empty promises. We can renounce sin so as as to live in the freedom of the Children of God.
Again: register for the daily prayers & reminders by entering your email address above to subscribing to the blog, or just print out the entire Novena by clicking HERE. If you found this post helpful be sure to share it with others! 
In the Love of Christ,
Jenny 
Jenny Ryan can be found regularly over at
www.motheringsunshine.com
 She is a mother of five, holds a Bachelors Degree in Theology, and wrote the Catholic Children's Book
Love With All My Might
.
Here are some Lenten resources for your family:
Sign up for Lenten Adventure (free) and let the Adventure Guides help your family have the best Lent ever!
Grab a few of the Lenten Adventure Activity Books to keep your kids focused this Lent: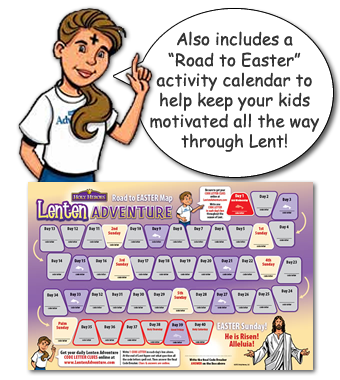 The Stations of the Cross Audio CD. This CD is beautifully led by children and has very specific and beautiful resolutions at the end of each station:
The following two tabs change content below.

Jenny Ryan can be found regularly over at
theryantable.com/
 She is the mother of five, holds a Bachelors Degree in Theology, and wrote the Catholic children's book, "Love With All My Might."