In November each year, the Church helps us focus on the "Communion of Saints." But there is a "secret" in the first days of this month.
Learning about this "secret" can really capture the imaginations of your children:
making them more aware of their connection
with the people God places around them,
both the living and the dead.
It's also a great preparation of their minds for Advent, when the Church leads them to contemplate:
Christ's future Second Coming to judge the living and the dead, and
the anticipation of the Jews long ago for His First Coming at Christmas!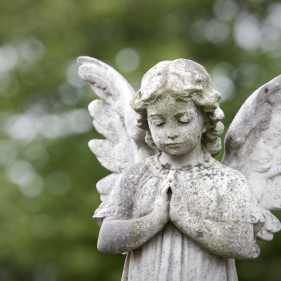 The Communion of Saints includes the following:
those who have already reached heaven (The Church Triumphant);
the faithful departed who are being cleansed of their sins in Purgatory (The Church Suffering);
and those of us still struggling here on earth (The Church Militant).
The Catechism of the Catholic Church reminds us about our relationship through Christ with others that not even death can overcome:
"In this wonderful exchange, the holiness of one profits others, well beyond the harm that the sin of one could cause others. Thus recourse to the communion of saints lets the contrite sinner be more promptly and efficaciously purified of the punishments for sin." (Catechism of the Catholic Church, 1475).
There's a very special "secret" about the first "octave' of November, which can turn this week into a wonderful tradition and milepost in the year for your family.
First, let's review the two BIG DAYS in November which the LAST DAY of October (Halloween!) points us to:
November 1st: The Solemnity of All Saints, a Holy Day of Obligation in most years to honor all the faithful in Heaven.
November 2nd: The Commemoration of All Faithful Departed (All Souls' Day). It is a Spiritual Work of Mercy to pray for the living and the dead. You can find a great discussion about praying for the dead in the Bible, in Maccabees chapter 12, which concludes about the prayers of Judas Maccabeus for the sins of his fallen soldiers: "Thus he made atonement for the dead that they might be absolved from their sin.."(2 Macc. 12:46).
REMEMBER: Praying for the living and the dead is one of the Spiritual Works of Mercy! (If you want a great way to teach your children ALL the Works of Mercy, try our new coloring pages here, or our new full-color book here (on sale and now less than $5 in bulk!) and companion card game here.)
BUT–here's the "secret" most Catholics don't know regarding the first 8 days in November:
We can help the Faithful Departed by "boosting our prayers" to get a "plenary indulgence" specifically for the dead during Nov 1- 8 by following some simple steps.
First–before we explain those simple steps–
I know what some of you are thinking: "What's an indulgence?"
An indulgence is "the remission before God of the temporal punishment due for sins already forgiven as far as their guilt is concerned." (my emphasis). This means that when we sin, there is a need to have God forgive those sins (to remit the eternal punishment for them) and there is also a need to remit the temporal punishment–that is, the effects of the sin need to be cleaned up before getting to Heaven.
Here are some easy examples to explain this to your children
You hurt your brother–and he forgives you…but he still has to suffer the effects of what you did to him (the pain, the bruise, or–God forbid!–the blood).
Or you make a mess of your room because you are mad at your mom–and she forgives you…but you still need to clean up your room (yep!).
Those in Purgatory are still getting the effects of sin in their souls cleaned up (they are still healing, the room still needs to be cleaned), before they can go to Heaven. But, since those sins were already forgiven by God (they went to Confession!), they will be going to Heaven once the healing and clean up is completed!
So–for your friends and relatives who have died, or even those unknown to you (perhaps someone whose gravestone you come across): you can get them a "plenary indulgence" so that ALL the "clean up" needed in Purgatory for their sins on earth is completed, finished, over. That's a "plenary indulgence." Think of it as being cleaned up sparkling clean like you were just baptized–if you would have died then, it would have been straight to heaven for you!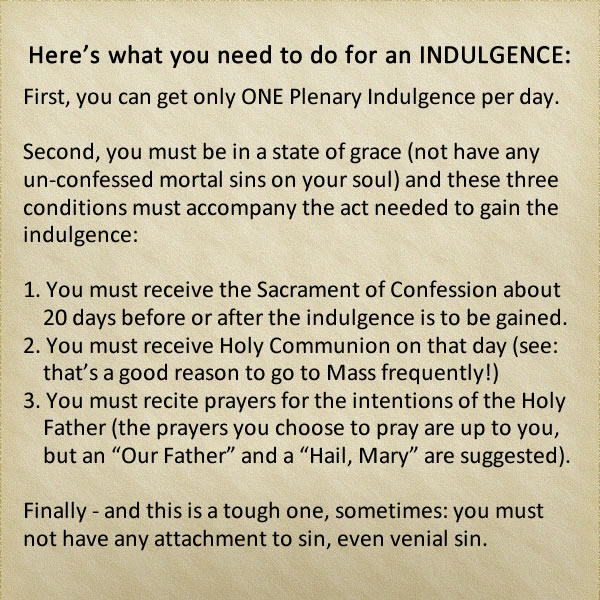 Get a printable "cheat sheet" by clicking here
BUT DON'T DESPAIR: If your disposition is less than perfect or if some of the above conditions are not fulfilled, the indulgence becomes "partial." That is, not all of the cleaning up is completed…but you have helped with some of it!
REMEMBER: One sacramental Confession (within 20 days) suffices for several plenary indulgences, HOWEVER a separate Holy Communion and a separate prayer for the Holy Father's intentions are required for each plenary indulgence.
HERE are the SPECIAL INDULGENCES for Nov 1 -8
When you perform the usual actions for an indulgence, you can obtain a plenary indulgence, applicable only to the souls in Purgatory, on any and each day from November 1 to 8 when you:
devoutly visit a cemetery and pray, if only mentally, for the departed.
On All Souls' Day: devoutly visit a church or an oratory and recite an "Our Father" and the Creed.
Here's a printable "cheat sheet" for you to carry which our family carries around to remind us during the day.
Finally, here's the great way to remember to perform this Spiritual Work of Mercy all year long:
A partial indulgence, applicable only to the souls in purgatory, is granted to the faithful who devoutly recite the prayer "Eternal Rest" (which is given below):
"Eternal rest grant unto them, O Lord,
and let perpetual light shine upon them. May they rest in peace."
So, get your children to Confession, to Mass, to a cemetery–and let's hope you can introduce us to all your relatives when we all finally get to Heaven!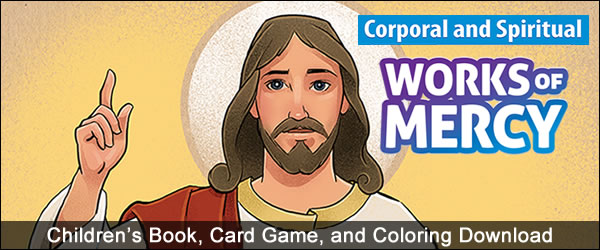 The following two tabs change content below.

Ken Davison created Glory Stories, which became a weekly radio series heard globally on the Ave Maria Satellite Radio Network and EWTN's radio network, WEWN. In 2007, he and his wife, Kerri, founded Holy Heroes--and their children stepped in to help shortly thereafter to create the online "Adventures" for Advent, Lent, and Spiritual Adoption.