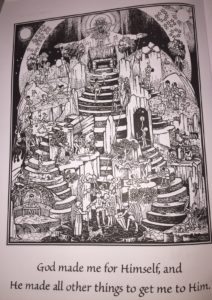 A startling confession from a child–has become a blessing to the rest of us.
Here's how it happened (and how it works for ages 9 & up).
PSST–are your kids under 9? Then scroll down for an idea to make joyful Lenten memories for them (and  for you!)
A couple years ago, my wife called all the kids into our study to organize (yet again) the overflowing bookshelves: my books, her books, kids' school books, college books, read-aloud books–well, with 8 kids at home, it's books books books everywhere.
One of the older girls pulled a book off the shelf and said, "Oh, I remember this book.  I loved it when I was little!"  
She opened it to the picture on the right–the first of 12 incredibly detailed, "Where's Waldo?" type of pictures in the book.  Of course, all the kids gathered around to peer at that and the other pictures as she slowly paged through them.
Trey looked over and replied, "That's the book that made me stop lying."
It was My Path to Heaven. 
With that testimonial from Trey–you know that my wife set the book aside to tell me that evening, "We need to start selling this book!" And so we have–right HERE.  
And we have incorporated a great idea from another mom: we're using the book with our entire family (yep: college kids, too, when they come home on spring break!) as a part of our family prayers AGAIN this Lent.  Annual Family Retreat!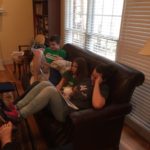 The book is one-of-a-kind, an absolutely ingenious way to bring an Ignatian Retreat to children–that's right: the step-by-step Spiritual Exercises created by Saint Ignatius of Loyola!  
The book makes it easy, because of the "Where's Waldo?" artwork which pulls you in and engages your imagination…just as Saint Ignatius wants to do with his Exercises.
At the last conference we attended, a Jesuit priest who is a good friend paged through this book and was astounded.
"This has everything in it!" this priest said when he looked at the Table of Contents.  He paged through to read it a bit.  "Wow–not watered down at all.  Just simplified.  I'm buying this for my sister's kids."
(No–of course we didn't charge him, but gave it to him free!)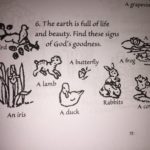 Here's what is so amazing about this book.  If you have ever been on a retreat using the Ignatian Spiritual Exercises, you'll recall that these retreats are SILENT.  The silence allows God to break through the clutter of our lives and our minds to speak personally to us.
So, that's the difficulty right there.  
How do you get a child to be SILENT?
Answer: With these detailed pictures and the FIVE STEP process explained in "How to Read This Book" on Page 1.
The priest who wrote this (in 1936) designed an approach for children aged about 9 & up to reveal what is IN THE PICTURES and what IT MEANS–and how to CONVERSE WITH GOD about it in your heart.
And it works.  
It touches a child's heart and opens his imagination to the wonders of God all around him.  
It opens his ears to hear the whispers of the Holy Spirit
calling him to a unique and unrepeatable purpose for his life.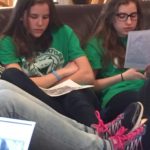 Here's how we use this book during Lent.  We spend about 10-15 minutes extra just 2-3 times per week in our nighttime prayers (or sometimes when the schedules for the evening are a mess, we've done it at lunchtime).  
We make copies of the illustration so each child can silently and independently study it. 
After all have looked at the picture for a few minutes, Dad reads the discussion that accompanies the picture. Then everyone looks again and adds some observations and thoughts, as the Spirit moves them (don't worry: there will be conversation…you won't be able to maintain the "silence" of the Spiritual Exercises if you are anything like our family, but that's OK: you will likely find the insights of your children are helpful to YOU, too…).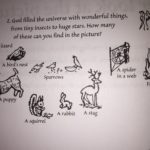 There is an appendix which points you towards even more details in the pictures.  Sometimes we read and discuss that, too.
Then, Dad has everyone be quiet again for a few minutes to study the picture.  
And the kids take their copies of the picture up to bed to contemplate and discuss WITH GOD before they fall asleep.
There are only 12 chapters in this "retreat," so there's plenty of time to finish during Lent or during the Easter Octave leading up to Divine Mercy Sunday.  You only need to do it a few times a week.  Let it sink in without rushing to "keep up."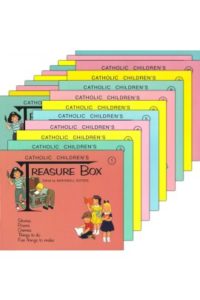 And if you have kids under 9 years old:  Lent is a time to turn their little hearts to God–with joy!  The love of God comes through sharing parent-to-child the wonder of God's love, and we have found nothing better to build excitement for Easter than reading through the Catholic Children's Treasure Box set . There are 20 colorful, adorable, joyful books full of stories of God, the angels, saints, missionaries, and simple games and rhymes! Little prayers–and lots of things to point to!–all telling of God's love for little children in story and verse.  Delightful artwork from the 1950's with sweet-looking children and no weird abstract drawings.  Written by nuns who provide "parents' info" on the inside covers to explain how to inspire in little imaginations the lessons in the short little stories and poems in every book.  There's nothing more mesmerizing than the stories of other Catholic children in these 32-page paperback books.
My father loved to relate what happened when he told our little Anna, "Grandpa only has time to read you one book!" So Anna brought all the Treasure Box Books over to him, set them on the couch, then jumped up between Grandpa and the books and proceeded to hand him one-at-a-time, "Here's one," and "Here's one," and "Here's one."
HERE'S WHAT YOU DO (it's easy!): Just read one book about 3 times per week of Lent–that's it!  Only takes about 10-12 minutes or so to read cover-to-cover (stories are short with LOTS of pictures to hold their attention). Twenty books over the 7 weeks of Lent–just read a few each week, on your schedule, with no pressure to keep up.  Let your child know that by Easter you will read through ALL these books. Then as you complete each one, they can keep it to explore for the rest of Lent.  Just a few minutes reading and thinking about God's love for little children each week as you progress through Lent. And remember: the "parents' info" on the inside covers provides everything you need to answer questions which arise! As the completed books pile up, they'll see that Easter is coming!
Click on the graphic above–we have the set on sale right now.


PS And here's a great add-on to go with My Path to Heaven to inspire in your children's hearts a desire for a personal and intimate relationship with God: our Holy Heroes Spiritual Diary.  Great for ages 12 and up.
The following two tabs change content below.

Ken Davison created Glory Stories, which became a weekly radio series heard globally on the Ave Maria Satellite Radio Network and EWTN's radio network, WEWN. In 2007, he and his wife, Kerri, founded Holy Heroes--and their children stepped in to help shortly thereafter to create the online "Adventures" for Advent, Lent, and Spiritual Adoption.