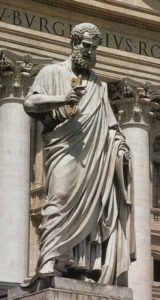 I'm on my honeymoon–but my husband and I wanted to share with you this one-minute video (down below) about Saint Peter's Basilica!  Our visit here today was such an amazing experience.  
Before you watch the video, get your kids and show them some things that are so inspiring about our Catholic Faith, its history, and all the saints and early Christians who have given us so much!
First, the statue on the right is Saint Peter holding the keys to Heaven.  Read about Jesus giving them to him in Matthew 16:15-19.  Then, Jesus told Peter in front of all the other Apostles that He prayed specifically for Peter to be the one who would strengthen the faith of all of them (Luke 22:31-32).  After the Resurrection, Jesus commissions Peter to serve His Flock–His Church!–as the First Pope in John 21:-15-19. I point to where the statue is in my video (do you see it behind me?).
Second, Saint Peter's Basilica in the Vatican is built right on top of the tomb of Saint Peter. The main altar is directly above his tomb!  The below images show you how over the centuries Catholics have carefully built and rebuilt the basilica so that the main altar over all those years remains above where those first Catholics had carefully buried our 1st Pope after he was killed by the Romans.
Did you know that only recently we found Saint Peter's tomb, then the Pope had some of Saint Peter's bones brought up and placed in an box so we could venerate them? It's quite an exciting story!  Here's an article about it (click here), and there's also a book about it that you can get (click here) from Sophia Institute Press.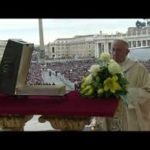 So….
On June 26, 1968, Blessed Pope Paul VI announced that the relics of Saint Peter had been discovered. And on November 24, 2013, these relics were held by Pope Francis and displayed publicly for the first time after celebrating the closing 'Year of Faith' Mass.  See the picture on the left!
Now–watch my video!  Tomorrow we are visiting the catacombs, and I hope to record another short video to share>
God bless you!
The following two tabs change content below.

Virginia just completed a graduate degree in Counseling, then got married! As the eldest of the "Adventure Guides," she has played a big part in developing so many Holy Heroes products and adventures. She wrote the scripts for lots of "Adventure" videos, as well as writing and directing the first "Inside the Sacraments" video (the Holy Eucharist). She wrote Glory Stories Volume 8, "Best-loved Catholic Prayers and Prayers of the Mass," and Volume 13, "Secrets from Heaven--the Story of the Children of Fatima" (her favorite!). With her college roommate, she co-created the Holy Heroes Spiritual Adoption Adventure.